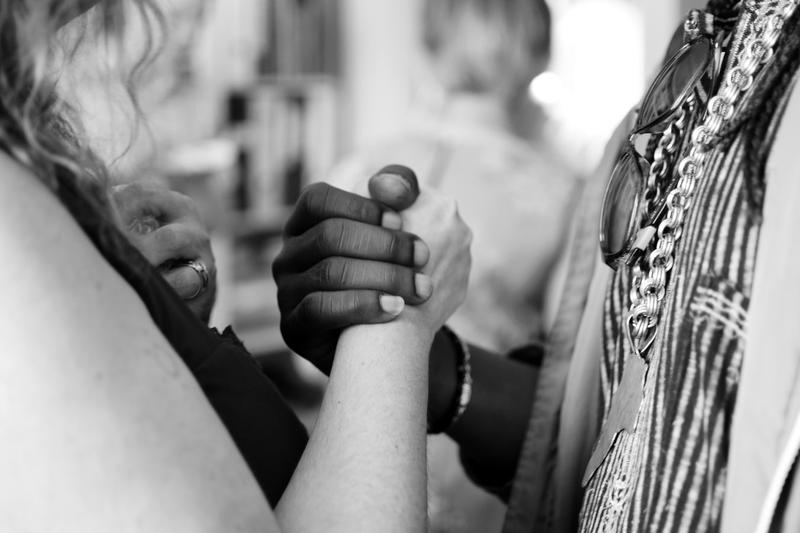 As humanitarians we have a strong sense of purpose about what we do and feel deeply connected to the people we serve. At the same time, the work we do takes a heavy toll on our own mental health and well-being and we often live with a fear of reprisal about speaking up.
The newly released report by the CHS Alliance brings to the surface an important, but often ignored concern in the humanitarian sector: staff well-being and organisational culture. Leadership plays a vital role in ensuring staff-wellbeing and care. In ensuring that we do better.
During the past three decades, my work brought me to multiple emergency situations — more than I could have imagined. My pathway is not unusual for humanitarians, it's often the norm. Many of us are compelled by the urge to be in operations and help people in their darkest hour. But what is the impact on ourselves? We never ask this question while we are in the midst of a crisis. Instead we carry on. But how do we cope?
Culture at work
The CHS Alliance's newly released report brings to the surface the fact that aid workers are subject to numerous situations which challenge their health and well-being.
They suffer from burnout, mental health illness and negative mechanisms in some cases at "more than double or triple the rates of the general population." I have both witnessed humanitarians facing issues such as high levels of anxiety, depression, PTSD, exhaustion, and panic attacks and experienced some of these symptoms myself.
What is more surprising is the fact that the most common source of stress is the working environment within the office. A report by the Konterra Group for Amnesty International on issues of mental health confirmed what most of us already knew: staff get exhausted and stressed not because of the working hours or workload, but the internal office politics, unnecessary tensions and conflicts with managers and poor treatment.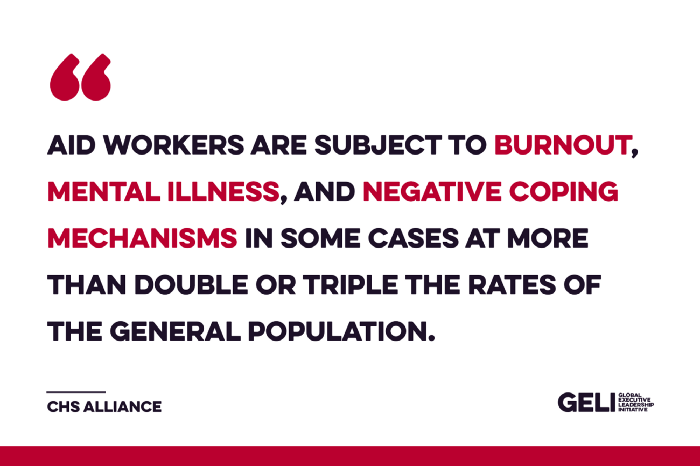 The role of leaders at the top of operations and organizations is crucial in creating the right atmosphere that allows members of the team to identify, communicate and handle conflict in a direct approach. As leaders we set the tone, we influence the attitude in working environments and act as role models for everybody around.
Our commitment to values and ethics and setting the right atmosphere in the organization, has an impact on the entire office and broader operation. Unacceptable behavior by managers needs to be addressed directly. Staff need to feel safe to report when such incidents take place and need to feel supported.
The role of leadership is important to help staff in distress. The first step is to identify mental health issues as early as possible and to find out how to best help. We need to make more of an effort to check on each other. For staff in distress, talking to a colleague, a religious leader, a leadership coach or a mental health professional is important. We need to make sure that staff know of available resources and whom they can turn to for help. The financial resources also need to be there to support both international and national staff welfare. The signs are always there. Leaders must be able to recognize them in our teams and to take action.
Extraordinary times
The COVID-19 crisis has added another layer of stress to humanitarian workers. Without question, humanitarians continued their work with more compassion and determination than ever before. Humanitarians continue to play a vital role, during this pandemic's challenging times, in helping people in some of the most crisis-affected parts of our planet.
At the same time these extraordinary times we live in require a doubled and tripled effort to take care not only of the people we serve, but also of our staff and teams. More than ever before, there is a need for empathy, compassion and care for humanitarians. Leadership matters and every leader in and around our sector must do their part to care and support the welfare for our teams. Humanitarians deserve humanitarianism.