As part of GELI's 'Research Lab', The Global Executive Leadership Initiative (GELI) and the Center for Humanitarian Action (CHA) hosted an exchange for leaders in humanitarian aid on the subject of: 
Leading in a Changing World: Strengthening Cooperation and Transformation in the Humanitarian Sector
With Susanne Fries-Gaier , Commissioner for Humanitarian Aid at the Federal Foreign Office.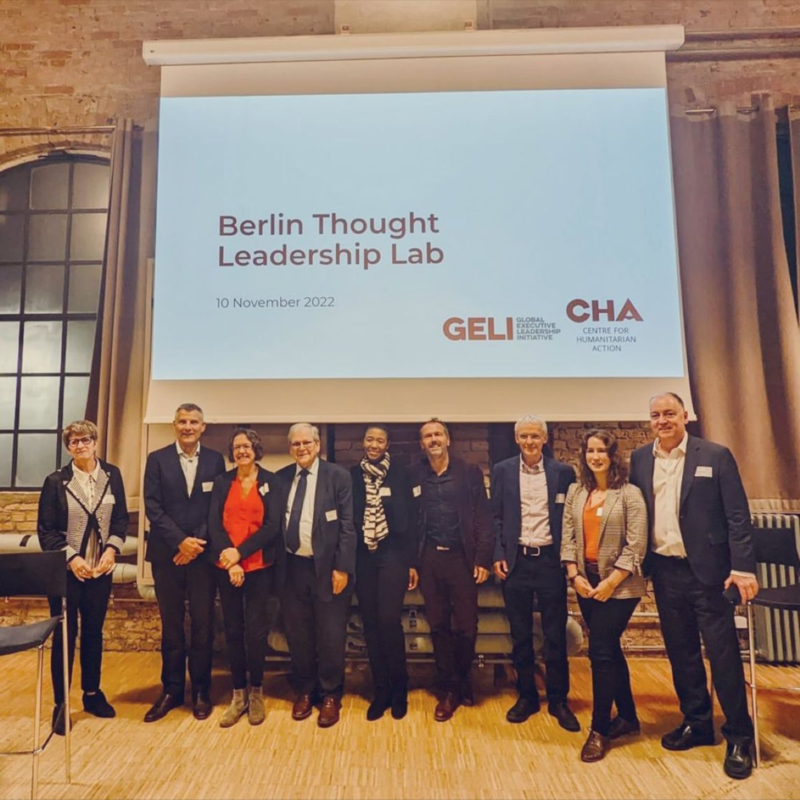 The humanitarian and development sector faces a growing number of global, systemic challenges. The gap between the needs of ground level respondents, senior leaders and financing is widening as the demands on managers in today's crisis are more complex than before. Although there are some training opportunities for workers in general, there is currently no leadership-level training which joins leaders from various UN organisations, agencies, local and international NGOS across the sector together. 
The Berlin Thought Leadership Lab exchange brought together top leaders and key international think tanks including HERE, KONU, ALNAP, Dag Hammarskjöld Foundation, ODI, and CHA, to discuss the humanitarian leadership challenges today. Each think tank conducted research on a topic relevant to leadership challenges today. The 6 research papers facilitated the roundtable discussion  and also the first GELI podcast series titled: 'The Leadership Lab'.
Find and download the relevant research papers below: 
ALNAP: Learning for Humanitarian Leadership: what it is, how it works, and future priorities
HERE:  More than the sum of the parts? Collective leadership vs individual agency in humanitarian action
Dag Hammarskjöld Foundation: How dare you? Principled leadership and moral courage  (p.42-50)
ODI: Leadership of protection in the humanitarian sector
CHA:  Towards facilitating local leadership in humanitarian project management
KONU: Systems Leadership in the Humanitarian Sector: Findings from Field Leadership Labs