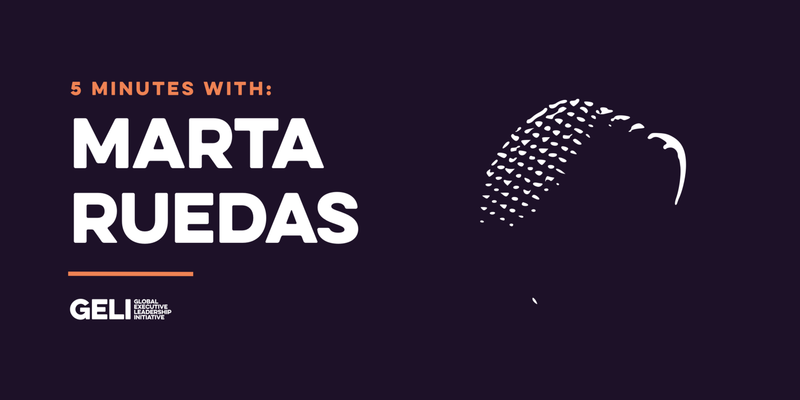 "Don't sweat the small stuff."
Marta has spent more than thirty years with the United Nations, leading humanitarian and development efforts in conflict and post-conflict countries and supporting peace-building transitions. Originally from Spain, her work has taken her to a diverse range of places around the world, including Iraq, Sudan, Bolivia, Kyrgyzstan, Georgia, Nepal, Mongolia, Mexico, Bulgaria, São Tomé and Príncipe, Afghanistan and Lebanon.
We spoke to Marta about the challenges she has faced through her career — and what her advice would be to the next generation of leaders. Here's what she shared with us.
GELI: Marta, you've worked in so many places, but have you found a common leadership challenge across all of these different environments?
In conflict and post-conflict environments, no matter where you are, humanitarians will likely find unclear lines of authority and accountability. Of course, this can have some advantages: you have more scope to capitalise on opportunities when they arise. On the other hand, the pace of change can be so rapid that you're sometimes left feeling like you're working in quicksand. My advice is to remain flexible, so you can quickly adapt your leadership strategies.
GELI: What do you think we should be doing to improve leadership in the sector?
Through the years, I've met so many incredible leaders in the sector — but that doesn't mean we should be afraid to push each other to improve. One thing we have to do is challenge the assumption that technical experts will naturally have the right qualities to successfully lead a team. Sometimes this is true, and sometimes it is not. So we need to look at what qualities we want to prioritise for the context — do we need a purely technical profile, or a person with a proven track record of team leadership and team management, which can be supplemented with the technical expertise found within the team? It's also vital that as a system we keep measuring and rewarding leadership and management capabilities: as the adage goes: "You get the performance you measure".
GELI: Is it lonely at the top? How do you cope with that?
It certainly can be. I remember one instance when I was the Officer in Charge and had to discharge the role with hardly any guidance. It was not particularly motivating when my supervisor rated me as 'satisfactory' in my annual performance review. Later, this rating was moved up to 'outstanding' by the review board, which was made up of many of my peers. It goes to show that if you work hard, there are always people who will take notice and support you. Through different leadership positions, I've also found it helps to have a broad network of people you can use as a sounding board — including colleagues and friends — to help you make better decisions.
GELI: What leadership advice would you give to your younger self?
My advice would be to learn from failure, as well as success. I think the UN system can sometimes put too much emphasis on when you've been successful in achieving something, but those times when you've been unsuccessful can also provide valuable lessons.
GELI: In reflecting back on your career, what is one leadership mistake that ended up being a learning opportunity for you?
I remember one experience when I was working in the Middle East in the late 2000's, I believed that a project for national dialogue could achieve a high impact. Unfortunately, the political environment was such that the dialogue never gained traction. However, the lessons from the project were as valuable as the project itself: we took what we'd learned to help create many small-scale dialogues. People found them so useful that the dialogue platform had kept going long after I'd left my post and UN funding had come to an end.
GELI: Any final advice for people climbing the leadership ladder now?
Two things. First, don't sweat the small stuff. This is a career that brings a lot of stress with it; don't add to that stress by dwelling on issues that are out of your control. Equally important is to avoid spending time on details that will have no real effect on results; you can delegate these to someone else. Exercise control over the results you want to achieve, but resist the temptation to try and control every input at a detailed level. That will only lead to unnecessary stress and burnout.
Second, every post comes with its unique challenges. You need to stay flexible, so you can adapt to each specific context. Whether it's your first time or your fiftieth, always give yourself time at the start to work out your approach. Trust me, taking this time in the beginning always pays off in the long run.
---
"5 minutes with" is an interview series with senior leaders and experts working across the humanitarian and development sector, academia and the private sector. The series gathers and shares insight and advice on leadership, ingenuity, and transformation.
The Global Executive Leadership Initiative is a new, innovative programme, designed exclusively for leaders from UN agencies, NGOs, and the Red Cross and Red Crescent Movement. GELI will take leaders on a journey of self reflection and growth to realise their full potential and drive more effective action for people across the globe.
The programme will help leaders to enhance their leadership skills, and provides them with tools that will help them better address today's complexities and lead transformation for a better tomorrow. Learn more on www.geli.org and follow us on LinkedIn and Twitter for updates.